Staking out plots and installation of templates
Nowadays, projects are created and finalised according to plans. However, it is necessary to perform certain important elements in the field for the proper execution of the construction work.

A public inquiry into a construction project is mandatory. According to the guidelines of the municipal administration, the public inquiry may require a rough indication of the project's right-of-way in the form of stakes or the installation of survey templates that also give the projected height of the future construction.

A second intervention is necessary if the project requires excavation work or the stripping of topsoil.

A number of stakes will be set up to guide the construction machines in their work.

Finally, setting up batter boards is the step that allows to precisely define the axes or sides of the building.

It is then a question of marking the intersection between a wooden plank laid by the mason and the theoretical axis of the project. String is then attached to batter boards in order to represent the building envelope.

GEO4ME also assists you on larger projects such as the installation of rail tracks, laying slope templates or marking roadsides for snow removal.
This service is offered to you when you order an official site plan for the survey.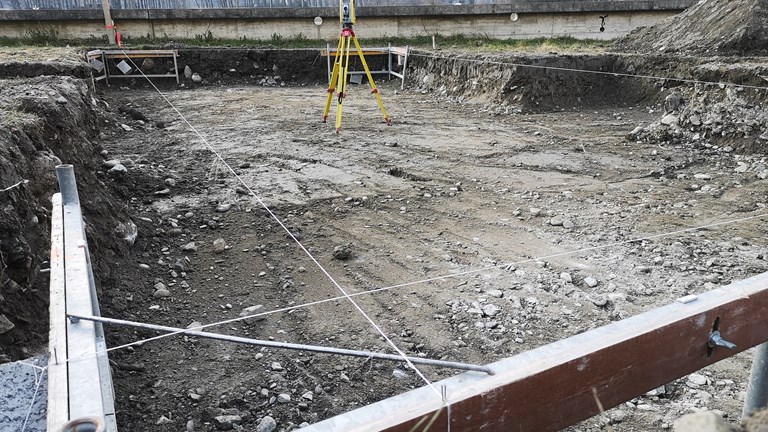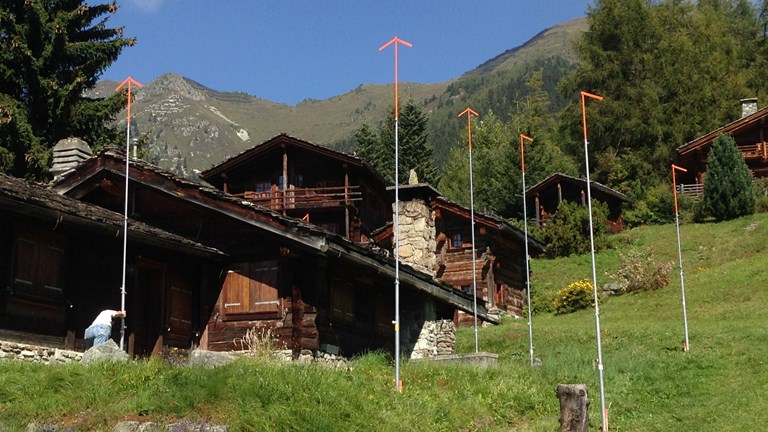 Topographic maps and elevation surveys
A topographic plan is used to represent a real space in two dimensions and, in a lesser way, in three dimensions (represented by contour lines). It serves as a working basis for any construction or development project. Furthermore, in many municipalities it is a compulsory document for a public inquiry into the construction a new building.
GEO4ME is able to undertake all the tasks required to draw up topographic plans and will support you from A to Z in your future project.
This service is offered to you when you order an official site plan for the survey.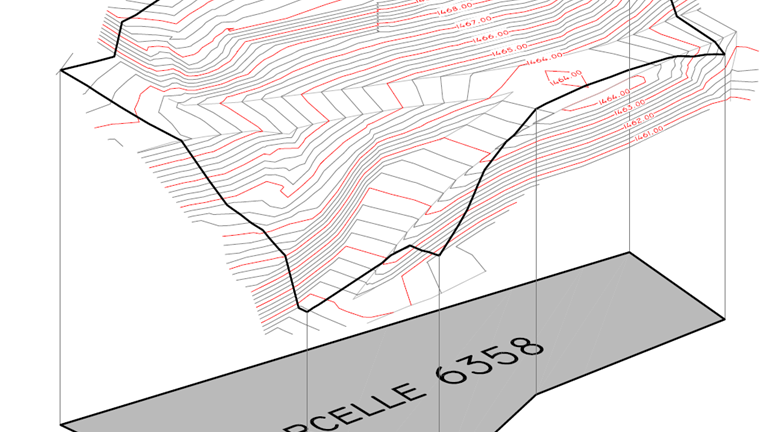 Cubature Calculations
Cubature calculations consist of defining the volume of excavated material and backfill required for the earthwork of a project. It can be carried out by comparing a topographical map with an earthwork plan or a longitudinal profile of the existing terrain with a project profile. These measurements make it possible, for example, to determine the operating volumes of a quarry and to update the stock situation.
Further examples of volume determination:
Extraction of materials
Calculation of the potential volume of wood in a forest
Excavated material/backfill for a construction
Landfill management

Hydraulic purges
Monitoring of gravel pit and quarry operations
Excavation of materials in the Rhone river bed
Or any other form of complex volume determination
Through various techniques adapted to construction sites, GEO4ME, is able to offer you an accurate survey of the existing conditions in order to enable you to work with reliable field data.
For more information on the technology used, please consult the following pages : bathymetry et UAV (drones).
This service is offered to you when you order an official site plan for the survey.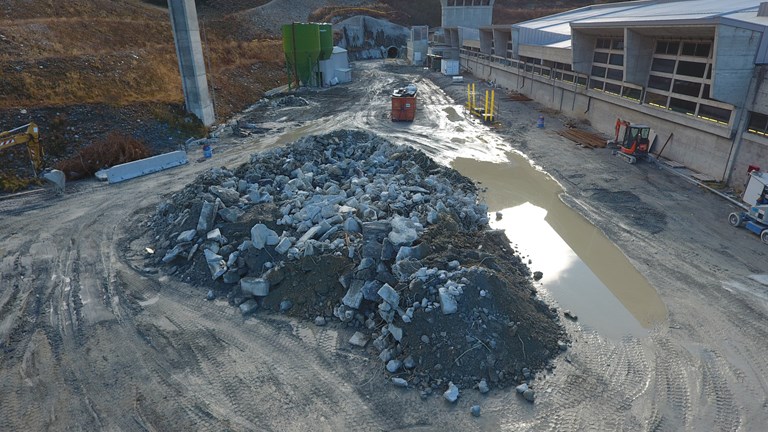 Miscellaneous statements and checks
Geographic data is an essential element in any project with a spatial impact, and the need for this is increasing nowadays.
Whether you are a private individual, a specialist or a municipality, GEO4ME can offer you its expertise for any type of survey or control, tailored to your needs:
Altitude control of a construction project
Tree register (position and type)
Survey of street lights, moloks, hydrant bollards
Alignment checks
Survey of the underground cadastre

Land register of urban property
River bank surveys
Torrential lava surveys
Surveys of piezometers on chemical sites and in agricultural areas
All other types of surveys
This service is offered to you when you order an official site plan for the survey.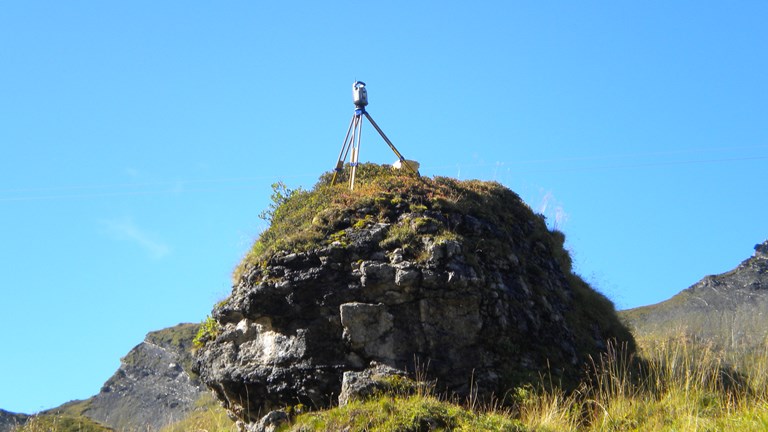 Construction controls and supervision
Dams, funiculars, penstocks or even retaining walls require special monitoring to control their stability and any changes in their structure. Similarly, the installation of these elements requires advanced techniques to meet the safety and optimisation criteria for these structures.
Thanks to suitable equipment and the mastery of all geodetic techniques as well as the responsiveness and flexibility of the staff involved, GEO4ME enables you to achieve these precision objectives.
Here are a few examples of our experience in the field:
Laying of power lines
Setting out ski lifts and ski tows
Monitoring of dikes, galleries, penstocks, penstocks

Control and monitoring of dams
Checking the stability of structures and buildings (churches, chalets, ...)
This service is offered to you when you order an official site plan for the survey.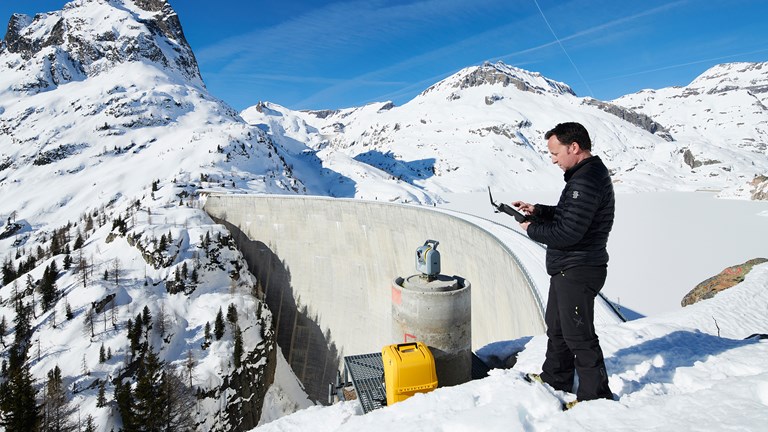 Precision measurements
Some geometrical work requires a particular level of precision with results down to less than a millimetre. GEO4ME will carry out for you:
layout out of the pipes of a penstock,
stake out and control of the alignment of chairlift towers,
Alignment of the rails on a railway bridge,
precision readings allowing the installation of a press or assembly line in a factory,

turbine alignments to limit premature wear of parts,
alignments of new reactors or industrial parts in existing buildings at the chemical site in Monthey,
slab deformation checks,
stability controls of engineering structures and buildings.
The field of action is vast and GEO4ME can offer you its expertise to find the solution best suited to your needs.
This service is offered to you when you order an official site plan for the survey.